Stone Types
Classification of Natural stones is done on the basis of their formation process & mineral content. Majority of minerals can be recognized by their hardness, crystal formation & color. Though, two stones might look alike but every single stone is different from another in some or the other aspect. Whether a stone possesses a superior quality or no, can be verified by few characteristics, which include resilience, solidity, strength, outer appearance, amenability to dressing, weight, density, fineness of grain, porosity & absorption.
I. Sedimentary Stones
These stones are originated from organic elements, which include glaciers, oceans, rivers & plants.
Limestone : It primarily consists of calcite & doesn't show much crystalline or graining structure.
Sandstone : It is a sedimentary stone, which is an outcome of quartzite stone, which in turn is either being re-deposited or eroded either by water or wind.
Soapstone : It is an extremely soft stone, which is created from a range of talc. This dense mineral wears well & is also feature resistance against oxide.
Travertine : It bears a reddish or cream color & is created through accretion of calcite from hot springs.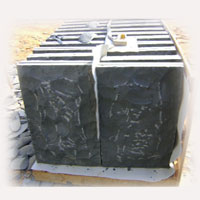 I. Sedimentary Stones
These stones are created through combined action of pressure, heat & minerals.
Marble : Marble is basically a metamorphic rock, which results from limestone's re-crystallization.
Slate : Slate is an extremely fine metamorphic grained rock, which is derived from sedimentary rock called 'shale'. It is composed mainly of mica, chlorite & quartz. Slate has a medium to fine grained surface texture. It offers a natural & refined finishing to any structure.
Serpentine : This gives an impression of a serpent skin & hence it is named as Serpentine. It features plenty of magnesium & has an igneous source.
III. Igneous Stones
These rocks are primarily created through magma, a volcanic substance.
Granite : Granite is mainly built of Feldspar (45%), Quartz (35%) & Potassium. Granite is extremely durable & strong stone. It features heavy gloss polish. It is mainly used for interior & exterior architecture p
IV. Man Made Stones
These stones are manufactured from those mixtures including cement or resin which are not natural.
Terrazzo : Granite & Marble chips are being implanted in a composition of cement.
Conglomerates or Agglomerates : Marble chips are implanted in a composition of colored resin.
Faux or Cultured Marble : A mix featuring resins which are mixed or painted with a paint, in order to make it look akin to marble.