Indian Quartzite Tiles: How To Enjoy it For Years To Come?
Posted on Apr 8, 2019
When most people think about Indian quartzite tiles, they assume it's quartz, the semi-precious stone. These two materials are strikingly different.
Quartz, is a manufactured or man-made material. It's made from polymer resins and ground up natural quartz. Quartzite on the other hand is a natural stone product that is mined. It's appearance similar to marble. Quartzite forms when sandstone is exposed to intense pressure and heat within the earth's crust. This causes the sand grains to recrystallize and interlock, making it very durable, similar to granite.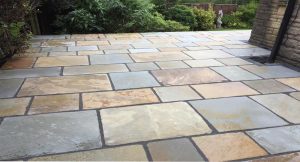 Many Indian quartzite tiles are available in grey and white as well as in red, yellow, orange, green, blue and pink tones. These colour occur from the presence of iron oxide. Since quartzite can be cut into different sizes and shapes, it can be used for kitchen countertops, shower walls, fireplace surrounds and flooring.
Here are some tips on how you can enjoy your Indian Quartzite Tiles for years to come:
1. Proper Sealing
Quartzite is a rock hard material. It's capable of withstanding etching and chipping during rigorous kitchen tasks. Unfortunately, this is also a porous material and therefore will easily absorb sauce and wine spills. To prevent this from occurring, you must opt for annual sealing measures. This will help keep your floors and countertops look shiny for years!
You can easily apply the sealant yourself. Most stone sealers are made from acrylics, wax and polyurethanes. They are a breeze to apply but can wear away fast. Opt for a penetrating seal made from siliconates. These also help repel liquid spills. This type of seal penetrates the quartzite surface and lasts longer than topical sealants.
2. Regular Maintenance
Post sealing, maintenance becomes a breeze. To keep your counters and floors clean, wipe them daily with a damp mop or cloth soaked in mild dish detergent. You can use a wet microfiber cloth to wipe off dust.
Avoid using cleaners or abrasives with a citrus or vinegar base. The citric and acetic acid components will eat away the sealant and make the stone look dull and vulnerable to staining. If stains do occur, wipe away with a water and baking soda paste.
3. Polishing and Restoring
Quartzite is a durable material but it will wear down, chip, discolor, crack and develop holes with time. This is when you need to telephone a quartzite professional. They'll be able to repair, restore, hone or polish your quartzite tiles.
With these tips, you'll be able to enjoy your Indian quartzite tiles for years to come. Visit Elegant Granites for more tips.