Bring Home The Warmth Of A Natural Stone Fireplace
Posted on Nov 5, 2018
Imagine a cold frosty place where evenings become dark and dull, and the only thing one longs for is the warmth of fire. The glow of this fire brings a soothing effect with a pleasant ambience. Since the time, fire has been discovered by the man, it has revolutionised his world by proving its usability in so many ways. It was fire only which brought life to those inhabitable places. He tamed the fire and brought it home to light his hearth and so began the tradition of lighting a fireplace.
A fireplace has a fire pit or firebox to contain fire, a chimney that allows exhaust to escape. It has a foundation, a hearth, a firebox, a mantelpiece, a grate, a lintel, a lintel bar, over mantel, a damper, a smoke chamber, a throat and a flue. Fireplaces are of many types. Metal, electric or Natural Stone Fireplaces which can be gas-powered or electricity powered. In earlier times, a fireplace was built to meet with certain household needs.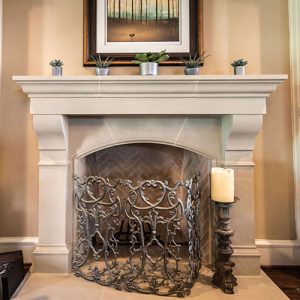 It was more like a fire pit, situated in the center of a room catering for multipurpose usage, but modern times has a changed concept and now the fireplace should be aesthetically appealing and attractive to look at. The fire pits of modern times are smaller and more brightly lit with an emphasis on the quality of materials used in their construction rather than their size.
Fireplaces designed by Elegant Granite add sophistication and elegance to the room apart from giving warmth and creating a cosy, romantic atmosphere. It becomes a perfect place to hold long heart to heart conversations and feel comfortable and happy in the company of your loved ones in such surroundings. We offer a variety in stone fireplaces to appeal to your taste and style. Our quality standards are unmatched and we design heat and smoke resistant hearths with a promise of longevity and durability to last forever.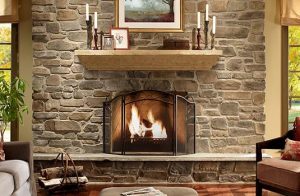 We cater these fireplaces in variety of stones like marble, limestone, granite or sandstone. Elegant Granite is the most reliable name as the leading exporter of these beautiful and splendid fireplaces. Our customised services will fulfill the clients' individual requirements giving them a choice in the type of stone, its finish, colors and size. Our reasonable cost will make them even more attractive. Our work is appreciated globally and we always give a reason to smile to our clients.
Visit us and find more about these incredibly beautiful fireplaces which are too good to be resisted. Stone adds to their uniqueness and they will attract envious and appreciative glances from everyone. Your style and taste becomes the talk of the town from the day you get them fixed in your living room. To enjoy this experience, give us an opportunity to serve you and feel the change.