Marble Or Granite: Which One Is The Best Stone For Home And Kitchen
Posted on Aug 3, 2018
Nothing compares to the achievement of buying one's own house as a single or a married couple. It's like a haven where one can unwind after a long day. Therefore, the subject of deciding upon interiors design pops up as it emphasizes personal style and taste of the people living in it. How one's home looks can make all the difference in the world, so it's worth the effort of making it a unique place.
So when it comes to designing and decorating a home, every section must have a unique flavor of its own which distinguishes one from another. Interior design is all about simple steps to convert a house to home and it's actually the kitchen which gives heaps of creative freedom; therefore a good kitchen design starts early.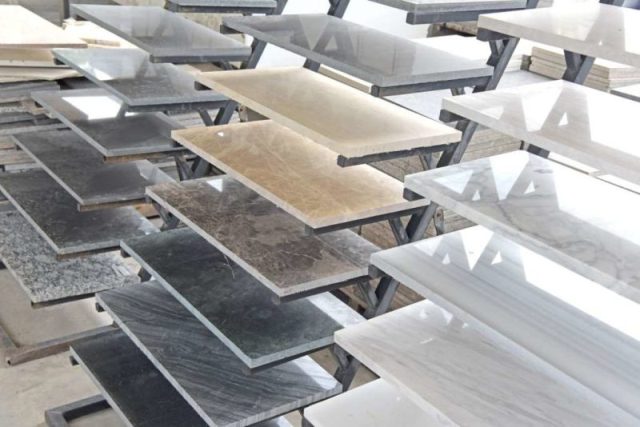 Kitchen remodeling is inarguable one of the best ways to add value and to upgrade one's home. As it is the heart of home as food plays such an important role in our lives. It's not only just a place where meals or snacks are prepared, its more often where family shares meals, gather together to spend time and catch up on the day's activities. Maintaining the style of the home and not going overboard on budget, with regards to materials that can be used for kitchen countertops, the options should be done carefully for this extremely important room in the house.
The options can make one's head spin. Tile, stainless steel, concrete, woodblock and the list goes on and on. Marble  Flooring Tiles and granite countertops have become the top choice of homemakers and kitchen users due to their elegant style. As everything else, marble and granite too has its own pros and cons. It's up to a person's taste and preference as to what type of countertop one requires and envisions.
Even though people tend to use marble more due to its availability and affordability, experts view marble as more appropriate to be used as general flooring, bathroom fixtures and farmings for fireplaces as it is fire and heat resistant. Marble kitchen countertops are not ideal as it is sensitive to scratches and crack which results in spending whole lot more. Though marble is durable, it is also easily destroyed by acid, heat and water. Heated cooking pan must never be places on top of a marble countertop as it is not heat resilient.
When choosing the right kitchen countertop, Granite certainly outweighs the benefits of marble and has been highly recommended and used by kitchen design experts and architects. It is the second hardest stone after diamond, which speaks of its durability. Though it's expensive, it requires zero maintenance. It is heat resilient, nonporous, easy to clean, does not harbor bacteria and does not fade in color thereby making it upgraded choice in kitchen. Granite Slabs Stone is unique and comes in diversity of colors and patterns. One cannot hold self back from admiring the beauty of this natural stone as sunlight dances off the small crystals and changes appearance throughout the day.