What Makes Indian Limestone Flooring A good Choice?
Posted on Dec 3, 2018
Indian Limestone is a sedimentary rock composed largely of the mineral calcite, available in various colours such bas black, grey, white, yellow or brown. Kota stone of Kota district and a Yellow limestone of Jaisalmer district of Rajasthan are the prime limestone occurrences in India. It is a fine-grained stone quarried at many other states of India by the names of Shahabad Stone, Kadappa Stone, Miliolitic, Sullavai limestone, etc.
India's total limestone is estimated about 93,623 million tonnes. They are extensively used for manufacturing of cement. This stone has proved to be tough, non-water absorbent, non-slippery, non-porous and above all comes at an affordable price to give the floors of different natural stones a tough competition.
The biggest advantage of getting limestone flooring is it's being less expensive than other stones and with little care this stone can prove to be extremely durable and long lasting. It is a little softer than marble, which adds to its advantage as it can be cut easily and always proves to be a good alternative which gives a classy touch to any place with limestone flooring.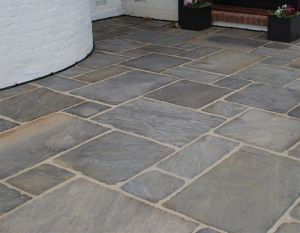 It is used in various finishes like honed, polished, rubbed, sand blasted or even natural. Any interiors undergo a magical transformation once limestone flooring is done. The versatility of limestone flooring means they can be used anywhere inside or outside the house or office as it makes even a very good paving material to be adorned in driveways, walkways, patio, pathway, etc.
Amongst the most popular Indian limestone, Kota limestone is a popular choice and high in demand as it makes excellent building stone because of its stunning looks, durability and reasonable cost. Its shiny surface and the most exquisite variety of colours makes it blend with any background anywhere, be it residential or commercial setup.
This stone never fails to charm the onlookers. There are certain unique qualities of this stone that makes it an unparallel choice amongst other varieties of limestone available in India. It looks good in any part of the building. It is non-slippery and non-absorbent, ideal choice for areas which are humid or moist. It is surprising though but along with kitchen flooring, it can give a new alluring appearance to one's kitchen's countertops.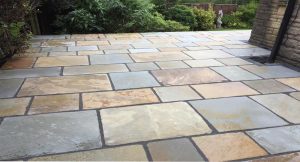 We at Elegant Granites have the most beautiful collection of Kota limestone in array of colours to create a magical effect in your homes, offices, commercial buildings. We supply Kota limestone in the form of tiles and slabs to suit your requirements and we are known to deliver any of our products undamaged or unscratched.
For us it is important that our customers feel satisfied and their purpose of buying the stone is completely justified and fulfilled. That is why we take particular note of our customers' requirements and customise the shapes and sizes. No wonder we are the Indian Limestone floor exporter all over the country as well as abroad.